Building Power, Advancing Policy, Exercising Democracy
PLAN Action Fund is focused on policy change at the local, state, and federal level that benefits the people of Nevada and of this nation. Our organization was formed with the understanding that direct service and public education alone could not bring about meaningful change in harmful or missing public policies that impact our citizens. PLAN Action utilizes both direct and indirect lobbying as well as public education and grassroots organizing to further these goals. We may, from time to time, also engage in electoral activities through our members.
The specific issues and policies that we focus on may vary depending on needs and on legislative schedules. What remains constant is our determination to fight for progressive policy changes that remove barriers and create opportunities for racial, economic, and social justice for us all. 
Comprehensive Immigration Reform
The time is now for a pathway to citizenship for the 11 million undocumented immigrants currently living in the united states that keeps families together.
Senate Joint Resolution 15 – Ballot Question 2
In 1863, the hand of corporate mining interests campaigned to defeat our first state constitution in favor of one that removed the provisions for taxation of mining. Since that time, the people have been limited in our ability to bring about meaningful policy change for the benefit of our state. On the eve of Nevada's 150th Anniversary, we have a chance to finally remove the constitutional ties that bind us. The vehicle is Senate Joint Resolution 15 (SRJ15) which will appear on your ballot as Question 2. It may be our last best hope and we need your help.
The Education Initiative – Question 3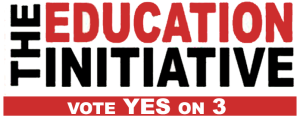 Nevada's public schools are chronically underfunded, and educational outcomes have suffered because of it. But its not due to lack of wealth in Nevada. We're surrounded by corporations like Exxon Mobile, Walmart and the mining industry that pay some kind of corporate or business tax in 47 other states in the US — but not in Nevada. We're asking businesses to step up and pay a tiny 2% on $1 million after some generous deductions.  Better schools mean better workers and attacking high wage industries and jobs in Nevada. There is no better way to improve Nevada's economy, help small business, and create more opportunity for our families. Business can help itself by investing just 2% in quality schools.